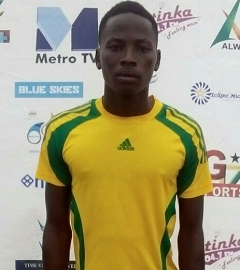 A young Ghanaian striker, who plays for third-tier side Dreams FC, Dennis Oppong Kyeremeh new kid on the block.
At just 17, the youngster is hogging the headlines in the West African country for his breakthrough performance for the Dormaa Ahenkro side in the Brong Ahafo Regional Division Two League.
He is undoubtedly one of the brightest stars emerging from the country's third-tier league who propelled his side to 2nd on the just ended 2014/2015 Zone 4 of the Brong Ahafo Second
Division League table with 30 goals in 22 competitions.
Supremely talented, this young striker is known for his agility on the pitch and nimble footwork that allows him to pass through the tightest defence undeterred. He is the darling boy for the Dormaa Ahenkro based club and continues to attract lenses from a number of the stellar clubs in Ghana with a host of European clubs believed to be keeping an eye on his progress in his native country.
He is a football prodigy who has been described by Aduana FC (a Premier League Club in Ghana which won the 2009/2010 Ghana Premier League) coach Cioaba Aristica as an excellent player and has been happily predicted will be a great player by his teammates.
The youngster has been making the news headlines as he has managed to hone a fine playing style which is characterised by a great acceleration on the field, excellent dribbling skills and the ability to play with both foot.
But his qualities have been hugely touted in Ghana and could become the next big thing to emerge from the scene.