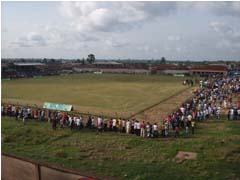 Berekum Chelsea who has been crowned the GLO Premier League Champions has another daunting task ahead, the CAF champions' league, to play.
The question most are asking is; is their home grounds, Golden City Park up to CAF standard? The league leaders have this venue available though the clubs own stadium is under construction, but it's not likely to be ready by the time the league starts.
But their present home grounds lack many amenities which make it not up to standard for CAF games. The Golden City Park lacks a score board, VIP stand, standard dressing room, not enough stands and a deteriorating pitch.
The difficulty is how these flaws are going to be fixed to make the stadium compliance to CAF standard for a sound take off of the league.
This is and many are the questions put to the MCE-Hon Lord Oppong, MP-Hon. Kwaku Boateng and Nana Agyeman Gyau, Omanhene of Akrofro , former black star player and former member of the National Sports Authority.
The MCE assured that he would present the issue to the assembly for a thorough discussion on how they can help. He also made it known that the assembly is in discussions with the National Sports Authority to rehabilitate it for the benefit of the community.
The MP suggested that all stakeholders should come together to identify the problems so they can take it from there. He said he wouldn't be able to make any promises, since what he may promise might not be a priority, but was committed to support when the facts are set straight.
Nana Agyeman Gyau, advised the players of Berekum Chelsea to be discipline, humble and hardworking in order to maintain their status as champions. He pleaded with the general public to desist from insults on players.
His tick on the renovation of the Golden City Park, Nana suggested, the premier teams in collaboration with the Municipal Assembly should appeal to the National Sports Authority to help renovated the park since the benefits wouldn't be enjoyed by only people of Berekum, but the nation at large.
He hinted that the traditional council would do their part when the time is due.