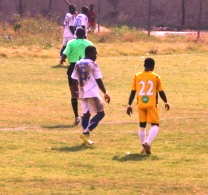 Kessben, the runners up today lost to the league leaders Berekum Chelsea by one (1) goal to nil at the Berekum Golden city park.
A second half goal from Bismark Idan made the difference when Bannahene came on for Basit. A good control of the ball by Bannahene gave Idan a clear chance from his pass which Idan completed marvelously.
A penalty kick which Bannahene failed to convert sealed the game at 1-0 for the home side.
The match saw three red cards, a penalty and a couple of discrepancies on the side of the referee. But generally it was a good game.