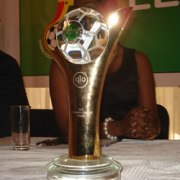 At the end of the 2010/2011 season, league champions Berekum Chelsea will finally presents this season's Cups as they play Aduana Stars on the 17th of July 10, 2011 at Golden City Park in Berekum to coronate their championship for the 2010/2011 season.
In all, Chelsea acclaimed three (3) trophies which comprises the Presidents' Cup, Yorkohama Cup from Germany and the Glo-Premiership 2010/2011 Cup as league Champions.
Fans of the Club have all been urged to be there to witness the ceremony on Sunday, the 17th of July 2011. On the other hand, the fans are also happy for the joy brought to them by the team and pledged their full support for the team in the subsequent seasons as well.