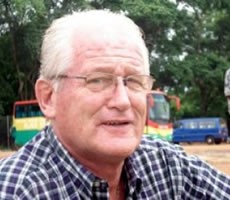 Champion Club, Berekum Chelsea has appointed Hans van der Pluym as their new Head Coach after parting ways with Steve Pollack last Sunday.

Berekum Chelsea has not been in the form that got them the ultimate diadem last season and many reasons have been assigned to their misfortunes. Hence, the appointment of Hans van der Pluym which will come as breather to followers of the club.

Speaking on Asempa Fm's Sports Morning show on Tuesday, he said he is extremely happy and is looking forward to giving off his best to the club.

He also added that he understood the enormity of the job at hand; but nonetheless noted he was willing to help the club meet its target.

When asked when he was starting the job, he said "I am going there tomorrow to assess the situation and hopefully start work tomorrow".

Coach Hans van der Pluym has been given a two year contract subject to five match probation.

His first assignment is at Sekondi this weekend as Berekum Chelsea locks horn with newly promoted side Wassaman Fc.

Coach Hans van der Pluym has been in Ghana since 1999 and has coached a lot of clubs in his decade long stay notably amongst them Heart of Lions.