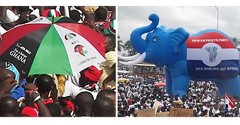 A scuffle between some supporters of the ruling National Democratic Congress (NDC) and the opposition New Patriotic Party (NPP) in the Odododiodio constituency last night left several people injured.
The scuffle ensued when a meeting called by NPP activists in the constituency was interrupted by some youth from the NDC.
Some of the injured were taken to the Usher Clinic.
Narrating the incident to Joy News one of the victims said they were holding a meeting when suddenly NDC supporters besieged the meeting grounds asking them to stop the meeting.
He said the attacked hurled bottles and other missiles at them injuring him in the process.
The NPP Parliamentary Candidate for the area, Captain (retd.) Victor Okaikoi has called for swift intervention by the police to prevent further politically motivated clashes in the constituency.
He said Ghana was regrettably reverting to the dark days when freedoms of the people were curtailed.
According to him, the police must act immediately to restore confidence in the security of the nation.
The police have confirmed last night's incident to Joy News.
Two patrol teams were dispatched to the scene to stop the scuffle from degenerating further. Investigations have begun into the incident.