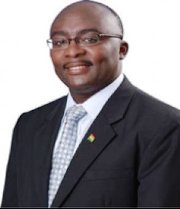 Economist Dr. Mahamudu Bawumia was picked to partner Nana Addo Dankwa Akufo-Addo as the New Patriotic Party's presidential ticket to help manage the national economy better, according to party chairman Jake Obetsebi-Lamptey.

Addressing journalists moments after the official announcement of Dr. Bawumia as Nana Akufo-Addo's running mate, Mr Obetsebi-Lamptey debunked claims that the NPP lost the 2008 elections because Dr Bawumia did not bring any votes to the ticket.
The pair won the first round of elections but lost in the run-off, and Jake says Dr Bawumia cannot be held responsible for NPP's defeat.

"The reason we lost the election has nothing to do with the ticket but for other reasons. And that reason was part of the reasons why the flag-bearer decided to consider him once again."

He said the flag-bearer considered the economist as the ideal choice, among the lots, to help him deliver on his vision, and delivering Ghana from the problems he said Ghana was facing.

"But probably, more importantly, is that the greatest problem facing this country is the management of the economy, and using the economy to create the jobs that our young people need," Mr Obetsebi-Lamptey remarked.

"In that exercise, should he (Nana Addo) be chosen to be President, Dr Bawumia was the excellent person, excellent choice to help him in helping to deliver a bigger economy that will create more jobs that will absorb our young people."

The party chairman stated that the flag-bearer's choice was "supported by a unanimous acclamation", stressing that "not a voice spoke against the choice".

He also indicated that all including former President J.A. Kufuor and Vice President Aliu Mahama, have pledged their unflinching support for the ticket to ensure that "Ghana starts to move forward again".
Myjoyonline.com