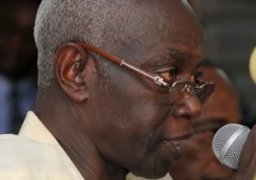 The Chairman of the Electoral Commission, Dr. Afari-Gyan has stated the numerous calls for a verification system of the proposed biometric compilation of the voters register will not be the panacea to curbing electoral fraud in Ghana.
He believes appropriate vigilance and proper policing at polling stations on the day of election is the key to curtail some of the electoral irregularities that have characterized national elections since 1992.
He added that the EC has no intention of introducing a biometric voter system.
According to Dr. Afari-Gyan, the EC is not contemplating a biometric voting system but what it hopes to do is to compile a biometric voter's registration.
He explained that there was no logical relationship between a biometric voters' register and biometric voting, hence the need for campaigners of the verification mechanism to stop misconstruing the process.
The EC boss dropped the hint at the opening ceremony of the first International Conference on Peace and Good Governance organized by the West Africa Parliamentary Press Corps.
In a speech read on his behalf, Vice President John Dramani Mahama challenged the Ghanaian media to show courage and determination in exposing warmongers and institutions issuing threats that are likely to endanger the peace and stability of the nation.
He also expected the media to highlight the wanton abuse of the fundamental human rights and freedoms of some Ghanaians which have remained veritable threats to the nation's internal peace and security.
Mr. Mahama further challenged the leadership of all political parties in Ghana to conduct themselves in a manner that will preserve the nation's peace before, during and after the 2012 general elections.

citifmonline.com