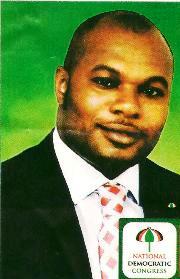 The delegates of the National Democratic Congress, (NDC) of the Berekum constituency, today, 19th November, 2011, went to the polls choose the parliamentary candidate for the area.
The number of delegates who were expected to cast their vote today were 487 but 481 were available to cast their votes.
After the polls, this was the results for the four candidates who competed;
Kwabena Taah Koraing had 2 votes (0.4%);
Lawyer Stephan Kwame Asante had 107 votes (22.2%);
Kwabena Kyere Jnr had 97 votes (20.2%);
George Atta Boateng had 272 votes (56.6%);
Rejected ballots were 3 (0.6%).
This put George Atta Boateng as the winner for the NDC parliamentary candidature for 2012.
He would be competing with the incumbent MP- Kwaku Agyenim Boateng for the Berekum Seat in December 2012 general election.