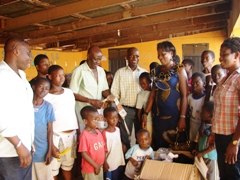 Madam Florence Baffour on Saturday, 04th of February 2012 made a donation on behalf of her school, Florianna International Nursery School to the World of Friends orphanage in Biadan-Berekum.
Florianna international is a nursery school in Baatwona-Spintex, Accra, which provides quality basic education to kids.
Madam Florence believes that basic quality education is the key and thus every kid should get the necessary materials to facilitate their learning experience.
She also believes that no child should be deprived of the basic necessities of life, irrespective of the circumstances, hence the motivation for the donation.
Some of the items received were clothing and kids toys.
The items were received by Dr. Nana Henne Ababio- founder of World of Friends International and Dorothy, the house keeper.
Nana Ababio was very much grateful on his behalf and the kids at the home.