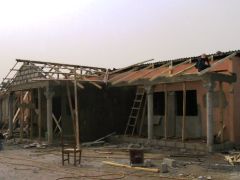 Great support has been shown to Agyapa Sei and his team as works progress tremendously at the Berekum Golden city Park.
The communal spirit of the people of Berekum, ignited by Agyapa Sei (Founder, Shalom Media), Kwame Mfum( Berekum Chelsea supporters' Chairman) and Shalom media have taken Berekum Golden City park to a wonderful height.
The Renovation works, which started less than three weeks ago, have seen the rehabilitation of the dressing room, construction of a press box, VIP stand, camera stands, officials stand and a modern reserve stands.
The pitch has also been fertilized and watered daily, making it greener and better.
Various groups of people including welders, carpenters, plumbers, masons, steel benders have contributed their expertise to the rehabilitation works at the park. Even basic school pupils have contributed their quota by picking over 4 wheelbarrows full of stones and gravel from the pitch.
These efforts have motivated more people to make further donations including GH₵ 2000 from Kwaku Agyenim-Boateng (MP), GH₵ 1300 from George Atta-Boateng (NDC MP aspirant-Berekum) and a promise of telephones and free internet access for a year, GH₵ 1000 from Dr. Leo Ofori (Daasebre Amankona Diawuo II), GH₵ 500 from Ginaat Hotel and GH₵ 500 from Berekum Chelsea.
Though the works has seen significant progress, more funds would be needed to fully complete the project.
For donations kindly contact Agyapa Sei on +233243387215 or visit Shalom Radio, Agoro FM or the stadium to make a donation.