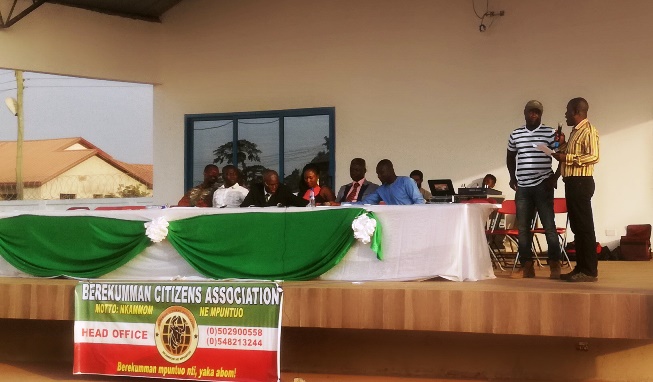 Berekum used to be the eye of the Brong Ahafo Region and the cleanest city in the country some years back. The chief of Berekum- Nana Yiadom Boakye II passed away in 1999, since his demise, Berekum has not seen any significant development, largely due to the protracted chieftaincy dispute.
Currently, the city is in a very deplorable state and has indeed lost several key developmental projects which were scheduled to take place. There is a high rise of indiscipline among the youth, even though various political leaders and the law enforcement agencies try to do their quota. There is some sort of disunity among the populace especially those matured in age and all is as a result of the prolonged chieftaincy controversy.
Evangelist Paul Osei Agyeman, the founder of Shalom Radio, a vocal and dedicated advocate of the development of Berekum has taken the initiative to ignite and revive the communal spirit and the unity of Berekum's citizens including those abroad to take action by bringing development and life to the once distinguished Golden City again.
Currently, an association has been formed known as "Berekumman Citizens Association" with the motto, "Nkammom ne Mpuntuo" which literally means Unity and Development which is indeed a great initiative. The Association is in three main parts, one for citizens in the diaspora such as Germany, UK, USA, Spain etc. The second is for citizens who are in Ghana but not living in Berekum, and finally, people living in Berekum dubbed "Berekum Dwellers Association". The main motive of the Association is to contribute resources and take on some of the developmental projects in the city. It is about time citizens made a conscious decision to build the city instead of tearing it down.
The Dwellers Association is chaired by Apostle Joe Yankyira with Wilhelmina Boafo as the Vice Chairman, Dominic Akwasi Nti as the Secretary, Ali Dayinday as the Organizer and Mr Asiedu Arthur (Abaa ) as the Finance Officer. Mr. Ernest Apraku, Mr. K. Oppong, Nana Kroboto and Mr. Addae (Paa K) are the Patrons of the Association.
All citizens, dwellers and well-wishers are encouraged to sign up and be part of this revolutionary organization to bring sanity, development and the prestige Berekum once possessed.
The Association's Office is Located in the Adwenpa Plaza Building close to the main bus station.
For more details contact us on:
0502900558 or 0548213244
"Berekumman Mpuntuo Nti, Yaka Abom"!