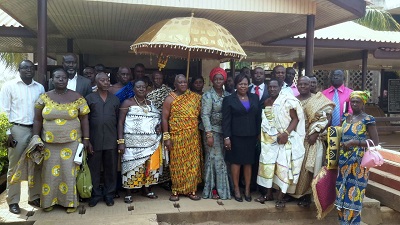 The mobile library project, AKCOMLIP-Ghana under the auspices of EoHOPE foundation which was founded by Nana Afia Siraa Ababio III, queen of the Kato Traditional area in Berekum is to be extended to Tewbabi, Berekum.
The mobile library project, which was launched three years ago in Kato is aimed at improving the level of education in Berekum through reading. Children are encouraged to read a book a week. Targeted at children aged five (5) to seventeen (17), it seeks to encourage these children to develop a reading habit as early as possible, so as to be able to enjoy and reap the full benefits that come with reading; such as having command over the English language and developing their creative talents and ideas. It has its theme as Developing Reading and Writing where it Matters most.
Books are sent to communities where there is no library and have low standards in education. The project has already produced a number of beneficiaries of which some have gotten sponsorship to the university. Ataa Benneh Senior and Junior who are currently pursuing a Bsc in Natural Resource management on scholarship in the University Energy and Natural Resources are beneficiaries of the AKCOMLIP project.
On Wednesday, 7th of January, 2015, a stakeholders meeting, which brought together the Omanhene of Berekum, Daasebre Nana Dr. Amankona Diawuo II, the MCE of Berekum, Nananom, the Regional Library Board Director, the Berekum Municipal Director of Education, the manager ADB bank, Berekum, the media and the general public to choose a community to be a beneficiary for 2015. The stakeholders chose Tewbabi to be the beneficiary for the year 2015. Plans are underway to include more communities.
In a short address the Omanhene of Berekum, who instituted the Amankona Diawuo Educational Fund, declared his full support for the project and promised to support in any possible way he can.
The MCE also assured EoHOPE to provide any support the government can offer to help make the project a success.