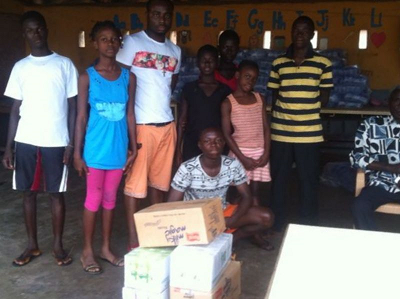 Anthony Boakye Smith, a Ghanaian resident in Dijon (France), spent the early hours of Christmas in the Biadan World of Friends Orphanage, Berekum. He donated rice, assorted drinks and biscuits to the children in the facility for the Christmas festivity.
In a statement made, he said to the Caretaker, Inmates and the Elders of Biadan and the home that "this visit shall not be the last, but the first of more to come".
He said he plans to make it a yearly affair and would stay committed to that. He advised the children to be God fearing and obedient, as well as take their studies very seriously, in order to succeed, live their own lives and be able to help others who might be in the facility later on.
On his part, Hon. Clement Amofa-Boakye (uncle of Anthony) said the children must stop seeing themselves as the needy forever, "start dreaming Big Dreams and work hard to make them realities", as they are very capable.
On behalf of the Orphanage and the entire Biadan community, Mr. Yeboah the Assembly Member for Biadan thanked Mr. Boakye Smith and his Uncle for the visit and asked them to solicit for more support for the Orphanage.