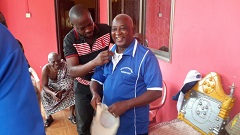 The central keep fit club in Berekum on Sunday, 18th of May 2014, paid a courtesy call on the Omanhene of Berekum, Daasebre Amankona Diawuo II. The club was there to make a donation to the Daasebre Amanakona Diawuo Educational and Health fund which was created and lunched by the Omanhene in December 2013 to help promote the educational and health needs of the people of Berekum.
The club made a donation of 500 Cedis and honored the Omanhene as the life patron of the club.
In a short speech by the Omanhene, he thanked the club for the honor done him and helping promote health and educational needs by supporting his ideas. He encouraged the club to keep on with their good works and keep on exercising and challenged them to come up with a tennis club since he is an astound fun and player of the sport.
The presentation was made on behalf of the club by their chairman Mr Kwabena Agyekum, the MCE, Hon Boakye Yiadom , who is also a member of the cub and several others including Mr Kwame Asiedu, Dennis Armah, a member of the board managing the Omanhene's fund.