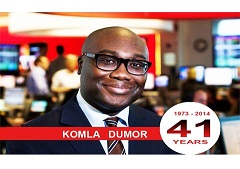 After the death of Komla Afeke Dumor from a heart attack on 18th January this year, 2014, it threw the whole Africa and some part of the world into asunder, a lot of hearts were broken as people consoled one another. The pain seemed to invade as the family and the funeral committee prepared for the final funeral rites.
Within this week the painful emotional atmosphere has evolved again as his funeral activities began to hit the airwaves from Friday 21st to Sunday 23rd February 2014. A lot of people started to show solidarity to the man through various talk shows and television programs as he was laid to rest.
This also ran on the various radio stations in Berekum—Shalom Radio, Chris Fm, Agoro Fm and Ahenfo Radio. The host of Shalom Radio morning shows Woode Man Koda in an exclusive interview told Berekumcity.com, Komla was a visionary icon that everybody in the media or radio industry looked up to the excellence of his work. He described him as a man who stood for the respect for humanity, dedication to work, a man of transformation and very influential towards human development and indeed a pan Africanist. He chanced upon this opportunity to encourage the up and coming journalists, to look up to those who do their work with professionalism, because hard work pays.
Most residents of Berekum were dressed in either red or black or both to also join the mourning of a great hero. People who were spotted at pubs expressed their passion for the deceased and how influential he was with some of them. Others also said that they liked him for his diction and the extreme love that he had for the African continent and Ghana in particular.
Some also said that they had never heard about him until his death, but acknowledged the comments and tributes people passed and read about him have triggered them to love him. Others also said that they have a problem with the Ghana journalist association (GJA) on how they have hyped his death and funeral more than that of Sammy Hayson of Metro TV who also passed around the same time but haven't heard much about him. Does that mean that making it from the Diaspora is better than making it big in Ghana?
The people of Berekum bid Komla Afeke Dumor farewell
Komla! Damirifa due!!!