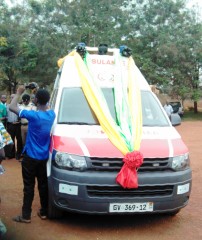 The Berekum municipal assembly got its own share of the ambulance service when the service was commission on Friday 22nd of November, 2013. The lines to call are 193, 0208048610.
The main purpose of the ambulance is to attend to accidents, emergencies etc.
The MCE, Hon Opoku Boakye Yiadom advised the ambulance workers to have a maintenance culture. He pointed out that, his doors are always opened whenever they need his assistance.
He also asked the media to educate the general public on how they can access the ambulance.
The officer in charge outlined;
Accessing the ambulance and delivery in the municipality is free, that is when someone calls from in and around Berekum municipality to the Holy Family Hospital, Berekum.

A referral case outside Berekum is chargeable.

They would work 24 hours daily including holidays.
The event was held at Berekum Municipal Assembly premises.
Reported by Dennis Ofori Armah