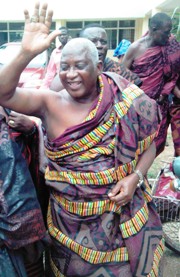 The Brong Ahafo regional house of chiefs' panel sitting on the Berekum chieftaincy dispute has concluded their work. The panel made the verdict known today 9th September 2013.
After a long battle over the legitimacy of Daasebre Amankona Diawuo II aka Dr. Leo Ofori, the panel finally declared him as the legitimate chief of the Berekum Traditional area.
The panel also determined the accepted number of gates who are entitled to the Berekum paramount seat. They asked the other three 'royal' gates to merge to become one gate to make two royal gates of Berekum.
They however fined the petitioners GHC 5000.
Detailed of the judgement and other updates will be made available soon.