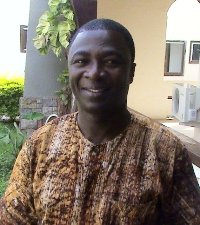 The Berekum municipal assembly on Wednesday, 3rd of July 2013, sat to elect a new presiding member to succeed Hon Kwabena Kyere Jnr.
The contest was between Nana Oteng Gyan II, a government appointee and Mr Yaw Mensah, assembly man of Kato. The assembly's standing orders states that, the winner should attain 2/3 majority of members of the assembly including the mps. This implies that one needs to get at least 44 votes to become the presiding member.
The voting went for a second round, after the first round Nana Gyan attained 43 of the votes with his opponent getting 21 votes. Since Nana couldn't get the required majority, the election was re-conducted.
Nana Oteng Gyan managed to pull 46 votes representing 71.88% with Mr. Yaw Mensa getting 18 votes which represents 28.12%. Thus, Nana Oteng Gyan was officially declared the new presiding member of the Berekum Municipal Assembly. The presiding member is like the speaker of paliament, he's the leader of the assembly members. Nana hails from Jinijini and is a Lecturer at the Sunyani Polytechnic.