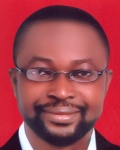 The election 2012 Election Director of NDC, Berekum East Constituency, Dannis Ofori Armah has challenged the incumbent MCE of Berekum , Lord Oppong Stephen to desist from vying for the MCE seat in Berekum.
In an exclusive interview with Dennis on Shalom radio morning show (18th February, 2013), the campaign director attributed the defeat of the NDC in Berekum to Lord Oppong Stephen. He iterated that he didn't make the people of Berekum realized the NDC's better Ghana agenda.
He also encouraged him to present the accounts of the assembly to the general public to make all aware of what the assembly had been up to for the past four years.
The same challenge has been emphasized by an NDC 'serial caller', Brother Isaac, to dare not vie for the MCE seat.
Both believe, it's time Berekum gets a very proactive MCE to move the town forward. Dennis Armah has hinted, he will soon be championing a movement, "How My Funds Are Being Utilised" to demand proper accountability from various leaders in Berekum including M. C. E., M. P., Zoom lion coordinator, G. P. R. T. U., Tax Collectors, Town Planning Officers, Nananom, etc.
Listen to the interview with Dennis Armah. Hosted by Koda.

{play}images/music/dennis.mp3{/play}