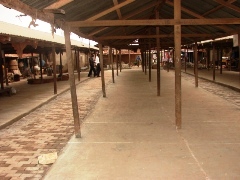 Renovation works started in the early parts of the year in the Berekum central market. The market floor is being paved to prevent lack of access during rains.
The first phase has been completed which saw pavement at the walking lane behind the market from Dr. Rabbi Mo Store to the main station street.
The project is intended to give the central market a face lift and it's estimated to cost the Municipal Assembly over ninety thousand Ghana cedis (GHC 90000).
The Berekum municipal Assembly has also started fixing street lights in various localities to increase illumination in the Municipality to help curb crimes in the dark. The 'ALAWA' street has hence been lit.