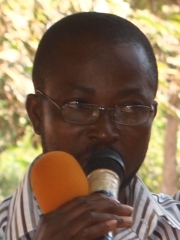 The Municipal Chief executive of Berekum Hon. Lord Oppong Stephen on the 3rd of august addressed a press conference at the studios of Shalom Radio.
He made it known to the press present that his administration has been able to accomplish a couple of project in his tenure of office which started 6th of May 2009 and have more plans in dealing with the challenges in the Berekum municipality.
On Education
He noted that;
An educational endowment fund has been established to help student in the municipality.
Some of the other projects he talked about are classroom blocks at Pruso and Akatim, all villages in Berekum.
He noted that the assembly is building various infrastructure for schools in the municipality.
Increase of the training teachers' allowance from GH¢120 to ¢250;
A school bus for Holy family NMTC
Increase in capitation grant by 50%;
Allowance for professional teachers;
Free school uniforms for basic students and expansion of the free school feeding program;
Free Computers for all senior high schools in Berekum and about GH¢400000 ICT infrastructure for Berekum college of Education under GIFECS.
On Roads
Hon. Lord Oppong Stephen made it known that
All Roads in the municipality would be rehabilitated. He said most feeder roads have been graded to clear pot holes. He hinted that the Senase road would be completed soon since they are done with the first layer.
The Biadan road, Koraso, Seikwa roads would also be getting their fair share of rehabilitation.
On Sanitation
He said the assembly is procuring a 20 cubic tipper truck to help ease the sanitation problems in Berekum by clearing all refuse dumps in the municipality.
On Health
He hinted that the assembly hopes to either build a new hospital or expand the Jinijini clinic to a government hospital to accommodate the health needs of all.
On Sports
He praised Berekum Arsenals and Berekum Chelsea for the Honour they have brought on Berekum through football.
He also extended regards to Aduana stars for the honour they brought on Brong Ahafo
He revealed that AESL have been contracted to design a new dressing room and VIP stands for the Berekum Golden City Park to put it to the standard of CAF.
On Lorry stations and Market
He congratulated GPRTU and PROTOA for relocating to the Thursday market.
He hinted that further plans are being made to decongest the main lorry station.
He also noted that all other lorry stations which are not properly located will be relocated at the appropriate time-example, Biadan and Mpatasie stations.
The Renovation of the Berekum central market is underway to give it a face lift. He asked people in other markets in the municipality to be patient since there were plans to rehabilitate all markets in the municipality.
He further made it known that plans are underway to create car parks to ease congestion on various roads
On Youth
The Honourable revealed that a training vocational centre to equip the youth with skills, to help start their own small businesses with support from government will accommodate unemployed youth from all wards in the municipality.
This project is underway and is still registering the youth who are interested, under the national youth employment programme.
On Chieftaincy
He urged the chiefs in Berekum to come together, settle their differences to help in the development of our dear Berekum.
On Security
He noted that he is in constant in touch with the police to help curb crime and the treatment of the injured in criminal activities. He continue by saying, other measures such as putting street lights at all dark places to put crime under control is being taken.
On Street lights
Hon. Lord made it known that a Street electrifications project is underway which intends to put street lights on all roads in the municipality. Some of the areas which have started benefiting from the projects include Mpatasie, Alawa junction, Domfete, 'Do Good' area, komfo krom etc.
On Other projects
He outlined some of their achievements which include The Renovation of the Berekum circuit court with an extension of a magistrate court.
Some of the new initiatives which are yet to commence are
Clearing of kiosks and structures from unauthorised locations;
Moving all remaining 'vehicle fitters' from the town centre to the light industrial area (magazine);
Renovation of the Berekum community centre
Acquisition of pickups to improve the duties of the assembly
Brighten up of the municipal assembly premises.
He also noted that a lot more projects are underway to help improve the standard of living for all and thus, people should have the patient to wait for there are a lot more goodies coming.