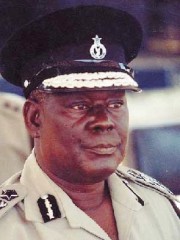 A king maker of Berekum and former IGP, Nana Owusu- Nsia clarified rumours in Berekum, that there is no Chief. He noted, so as to say, there is a Chief of Berekum who is Daasebre Amankonah Diawuo II; just that he's not been registered. He further explained that, a Chief needs to be installed before he is registered, so the fact that the Chief of Berekum has not been registered doesn't mean there is no chief.
He was speaking to Kooda, the host of Shalom Radio super morning show on the 3rd of August this year. He further elucidated who the Gyaase Hene of Berekum is, since there had been a question of a new Gyaase Hene in Berekum. He emphasized," The only Gyaase Hene available is Nana Okoffo Dartey and no other person".
He further encouraged all the factions in the chieftaincy matter in Berekum to come together, resolve their differences and contribute to the develop Berekum.
He went on to congratulate the MCE on the plans he has for Berekum, but advised him to give acknowledgement to his predecessors who worked to move Berekum forward. He further raised some concerns about some Assemblymen who defraud citizens and asked the MCE to investigate those allegations.
Source: Shalom Radio