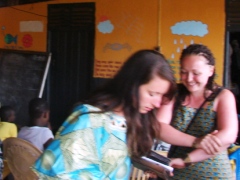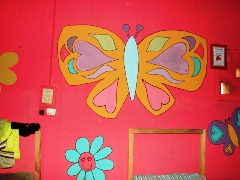 Some volunteers from the United Kingdom have deemed it a social responsibility to brighten up rooms at the Biadan World of Friends orphanage.
The volunteers, Alana, Madi and Hayley comes from the UK and has come to Ghana to contribute their knowledge and experience to the well being of orphans in Berekum. They are on a program Known as File, which brings volunteers from the UK to help in the development of Africa
The three volunteers are currently working at the World of Friends orphanage. They believe that colour, beauty and art inspire kids to learn and be happy. They therefore acquired various colours to paint and draw in rooms and classrooms at the orphanage to give them a sense of art.
This has brought a new sense of joy within the kids and they believed to be happier with their rooms now.
Two of them, Alana and Madi would be leaving Berekum on Thursday, but are planning a party with the kids today Wednesday at the orphanage.