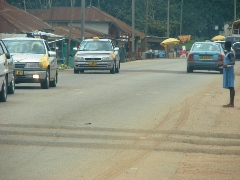 The cry of the people of Kato a suburb of Berekum has been heard. They got their own share of ramble strips in the township. Kato which is located on the main Berekum-Sunyani highway has seen many accidents in its township due to over speeding of vehicles. They have lost many of their citizenry through some of these incidents.
The youth had blocked the road sometime ago when a vehicle killed a citizen of the town. They had even threatened to burn down the vehicle but were suppressed by the police.
Most of the people there today are very happy and optimistic; no accidents are going to happen again, thanks to the intervention by the Ghana High Authority to make these speed reducing cogs.