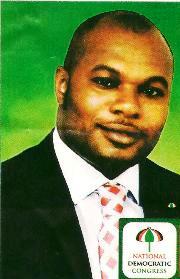 One of the aspirants as parliamentary candidates for the NDC in Berekum, George Atta Boateng (Osomafo) has launched his primaries campaign at Jinijini a suburb of Berekum after picking his nomination forms on Friday 19th of this month. He made it known to the delegates and people present that he was going to unite the NDC party in Berekum to win the seat in 2012. He also made it known that; he would promote the welfare of NDC supporters in Berekum, establish the polling station fund of all polling stations and establish a welfare fund for all NDC supporters and their families.
The ruling NDC opened it offices for the 2012 parliamentary election's nominations forms to be picked on the 16th of August and would close on the 16th of September this year. Each of the forms cost GHC 200 and will cost male candidates, GHC 2000 and GHC 1000 for female candidates to return the forms before they may be considered as candidates.
According to the Constituency organizer of the NDC, Mr. Andrews Henneh, as at Friday 19th of August, only two people had picked up nomination forms; George Atta-Boateng and Lawyer Asante. It's however hopeful that, others may pick up the form before the closing date.
The race for the Berekum seat has just began as we hope to chose somebody who would carry our aspirations to create a better Berekum for us all.