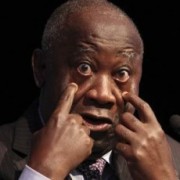 Mr. Victor Gbeho, President of the Economic Community of West African States (ECOWAS) Commission, on Thursday renewed the call for the United Nations and African Union to assist in removing embattled Laurent Gbagbo from power.

"We will at the close of this ECOWAS Summit officially apply to the United Nations and the African Union to assist us to apply minimum force as the last resort in removing Laurent Gbagbo and swear-in
Alassane Quattara, the man who is the legitimate winner of their November 2010 general elections."
Mr Gbeho, who was speaking to Ghanaian Journalists on the sidelines of the 39th Ordinary Session of Heads of States ECOWAS Summit underway in Abuja, said after trying all tactful and diplomatic means, they would have no other choice but to apply force to oust the 'recalcitrant' Ivorian leader.
He said the current killings of women and children and the general human rights abuse in the Ivory Coast, was not a worry to only Ivorians, but to all other countries in the sub-region, since the spillover of such acts was creating security threat and general atmosphere of fear and suspicion.
He announced that the leaders at the close of Thursday would declare their stand on the Ivorian crisis and their sentiments on current development in Libya and its repercussions on the West African
sub-region.
The ECOWAS President whose tenure of office would be ending at the close of the Summit in Abuja, said plans were far advanced to re-admit Niger and Guinea who were temporarily rebuked for straying out of constitutional rule because of the positive and smooth elections held in those countries.
On the admission of Chad into ECOWAS as an observer nation, the President said 'ECOWAS treaty does not make way for observer nations, but we have however urged them to apply for accreditation to enable them to attend our conferences."
Source: From George-Ramsey Benamba, Special GNA Correspondent in Abuja, Nigeria