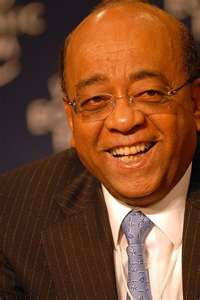 The founder of the Mo Ibrahim Prize for Good Governance in Africa has challenged African leaders to reverse the shameful situation where many citizens of the continent go hungry despite the availability of tracts of farm lands that could be used to produce sufficient food for the people.
Mr Mo Ibrahim said it was disgraceful that a continent with the largest arable land - lying largely fallow - and blessed with rain water should have its people go hungry.
He was speaking at this year's awards ceremony - broadcast live on MultiTV - to confer the $5m (£3.2m) Mo Ibrahim prize for good governance in Africa award on former Cape Verdean President, Pedro Verona Pires.
Mr Ibrahim said African leaders, civil society and researchers must answer why that is the case.
He doffed his hat for African civil society, saying it is only when they rise up that the continent will get the leaders it deserves to foster the development the people so badly needed.
In a subtle attempt to explain the reason for the award's failure to honour any former leader in the past two years, Mr Ibrahim, commended the Awards Committee chaired by Dr Salim Ahmed Salim, for the members' fortitude in refusing to honour anybody.
He stressed that contrary to widely held belief that the prize money stays with him when no leader is honoured, even when no winner is selected, the money is still voted for and is used for other purposes in furtherance of good governance in Africa.
He said the so-called Arab Spring had come to stay and African leaders must constantly remind themselves of the factors that spurred the revolutions.
Mr Ibrahim congratulated former President Pires for bringing extraordinary development to his people and thereby winning the prize.
Prize committee chairman Dr Ahmed Salim said Mr Pires, who stepped down in August, resisting pressures to amend the constitution to perpetuate himself in power, made Cape Verde a "model of democracy, stability and increased prosperity".
The citation accompanying the award said former President Pires "won widespread respect for the emphasis given to sound macro-economic management, good governance and the responsible use of donor support to improve infrastructure, build up the country's tourism industry and prioritize social development."
"The result is that Cape Verde is now seen as an African success story, economically, socially and politically. According to the IMF, real GDP grew annually between 2000 and 2009 by over six percent, well-above the average for both sub-Saharan African and small island economies. Per capita incomes rose by 181% over the same period. President Pires invested this increased prosperity in improving the social capital of his citizens. Cape Verde has a literacy rate of over 80 percent and life expectancy of more than 70 years. Although poverty and unemployment remain a challenge, the country is well on track to meet its targets under the Millennium Development Goals.
"In 2007, Cape Verde was judged advanced enough to no longer be regarded as a Least Developed Country by the United Nations. It was a remarkable endorsement of sustained economic growth and good management. Only Botswana, a country rich in natural resources and sound development policies, has previously been promoted to middle-income status," the citation eulogized the achievement the achievement of the 77-year-old ex leader.
Dr Salim said "President Pires's stewardship won Cape Verde international recognition as one of Africa's most stable democracies. For the last four years, it has ranked second out of the 53 African states in the Ibrahim Index of African Governance, and consistently displays high scores across all four categories of the Index - Safety and the Rule of Law, Participation and Rights, Sustainable Economic Opportunity and Human Development - in a balanced way. It regularly figures at the top of international league tables on press freedom, human rights and democracy. Good relations have been built across the world.
"The Prize Committee believes President Pedro Verona Pires is a worthy winner of the 2011 Ibrahim Prize for Achievement in African Leadership," he concluded.
A Research Fellow at the Centre for Democratic Development (CDD-Ghana), Mr Edward Ampratwum, who in MultiTV's studios to discuss awards ceremony, said he believed no Afican leader who office in the last three years deserved the award better than President Pires.
He said Africa will get better leadership only if the citizenry reject mediocrity and demand excellence from their leaders.
Myjoyonline.com