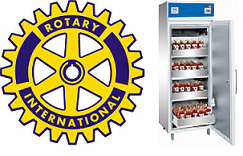 The Rotary club of Sunyani central has donated a blood bank refrigerator and 200 storage rubbers to the Sunyani Municipal Hospital stocked with blood from over 70 students and staff of St. Vitus Technical School at Baakoniaba after a blood donation exercise there. There is another set of devices that will be sent to the Bechem Government Hospital.
The presentation of the blood bank refrigerator to the Sunyani Municipal Hospital was done by the Rotary Club Sunyani Central President, Mr. Frank Kofi Owusu Debrah (also the planning officer at Sunyani Polytechnic; in an interview, he told Berekumcity.com as to what motivated them, he said, "we are doing these things to fulfil the wish of our first president who was a gynaecologist and he had the aspiration to save lives through blood transfusion".
The blood bank refrigerators are worth GHC 24,750 each while the 400 storage rubbers are worth GHC 5834. The president believes, the items will go a long way to improve health service delivery and hinted they have plans of assisting the hospitals to stock the blood bank with continues blood donation.
Receiving the items, the Municipal Hospital Administrator, Zakariah Yakubu promised, the hospital will put it to good use and invited other organizations to emulate the kind gesture shown by the Rotary Club Sunyani Central.
Some students of St Vitus technical school who donated blood also expressed their profound gratitude to the Rotary Club and pleaded with the general public to also make it a point to donate blood to save lives.