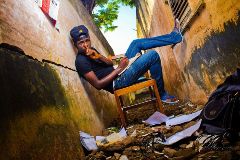 Kwaku aka, Lil-C, aka, The mix tape god . Attended Freeman Methodist Preparatory and J.H.S,Berekum, then went ahead to Sunyani Senior High School. Currently at the National Film And Television institute.
Genre of music, Rap. Has been rapping since class four. Joined a group of THREE called the Street Dons in S.H.S. the group included FIDELIS DOMALAE (GAME), SAMUEL GYAMERAH (F. A. B) first track recorded was an AIDS song produced by FRIM- P. Was later discovered by other producers like Madras and King- D, THEN later hooked up with DJ Kurupt who currently the personal D J.
Has so many songs to his credit and they include; Things in Berekum, Berekum girl, a song for Berekum Chelsea, a cheer song for the Blackstars in their 2006 world cup campaign, 2010 world cup and also 2013 AFCON.,Ohy3 me bottom and so many others. .
Some of his associated acts are; Akozbotwe, Lil Criz, Julie(mentor 4), T- Slung, Ammerado, Opro, Realitee, Riddle, Rapamazin, Cabum, Reynolds(stars of the future), Kofi Kapon, D-Kay etc.
Has also done collaborations with Sarkodie, Barima, Nana Jato etc. Has very much interested in helping the needy so has set up a foundation called "LIL-C For Kids" The foundation's main aim is to help children especially orphans.