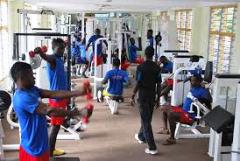 Monday 17th Feb, 2014, on the Shalom Radio Super morning show hosted by Woodman 'the Dream' Koda, Mr. Emmanuel K. Tawiah (aka Kwame ABTS) a gym instructor at the Wembley gym center on the Adom road, Berekum, took the chance to explain the importance of exercise to the listeners of Shalom Radio. He was invited to the "Things in Berekum session" of the show which focuses attention on the development of Berekum and its environs.There has been massive formation of keep-fit clubs in the municipality which fosters unity and cordial relationship among various groups of people irrespective of religious sect, tribal group or political affiliation through weekend exercises. It therefore necessitated for an expert to explain how valuable or expedient it is to join these clubs or exercise at all.
He explained that one may be doing more harm their self to desist from exercises, this is because training or exercise helps one to efficiently burn the fats deposits in the human body. He continued to say that it helps in good regulation of body temperature, being smart and snappy, ability to eat and drink well. He said that failure to exercise triggers heart failure due to the buildup of cholesterol in the veins and arteries which will halt the free movement of blood to and from the heart. In addition it may lead to obesity which can also result in death.
To every good thing there might be an iota of negativity, hence he was asked to explain the things that are bad about exercising. He explained that, people who return from training and attend to bars and eating joints to drink alcoholic beverages and take in heavy foods are to desist from that. To those who train only once in a week, they should try and increase it to at least thrice a week. Aged people should also exercise regularly but not in a vigourous way, likewise, for children. People who train should also reduce the amount of meat they take, the amount of sugar they take, but should increase the quantity of water they drink. He therefore appealed to the market men and women, bankers, radio and TV presenters to try and make time to walk or trot sometimes in order to stay healthy.