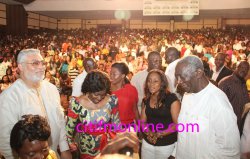 Ex-Presidents Jerry John Rawlings and J. A Kufuor standing side by side, dancing and cheering were a few of those rare sights Ghanaian music lovers and fans were treated to last Saturday, November 12 at the Accra International Conference Centre.
This, of course, could only happen at the celebrations and honouring of a living legend, Daddy Lumba (DL).
The night was charged with unity and pure delight as the two august personalities of the opposing sides interacted and bonded over Ghana's renowned Highlife star, Daddy Lumba's authentic Ghanaian music.
It was even more interesting to see former president Kufuor and Nana Konadu Rawlings, who have never been the best of friends exhibiting 'killer' dance moves as Mr. Legend music star Daddy Lumba takes the stageRawlings cheered them on.
This had everyone on their feet applauding and dancing along with them. The event, Legends and Legacy Ball, which was the first of its kind has arguably acclaimed as the highlight of entertainment events that have taken place this year.
Even Kwaw Kese had to agree and said so accordingly, commending the two political rivals for exhibiting such unity. He even got down the stage and asked them to shake hands.
Mr. Rawlings cheers as DL performs with his dancers
DL known in his private life as Charles Kojo Fosu, did same by thanking the two former presidents for coming together during his last performance.
"This cannot happen anywhere except at Daddy Lumba's show - I am so happy and I thank you all for coming," he said.
Other acts including Praye, Nacy of No Tribe fame, Kofi B, Kofi Nti, Rana, Felix Owusu, Kesse, KK Fosu, Mzbel, Castro, and Philipa Baafi, gave amazing performances paying tribute to Lumba.
Organisers of the event - Imajin Advertising- presented a 24-carat gold chain, a plaque among others to Daddy Lumba, which was given to him by a representative from Voice of America and Daddy Lumba's godmother and former teacher, Mama Acheampong.
By:Citifmonline. com