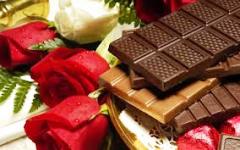 Amidst the misconception that a portion of religious and social groups have against Val's Day, it is celebrated almost at every nook and crevice of the world on the 14th of February. Notwithstanding how remote or urban a society is, its residents enjoy it with a high degree of contentment. People chance upon this day to express their love that over flows the brim of their loving hearts to their soul mates, friends, family, neighbours and loved ones. This attitude serves as a quintessential to that of St. Valentine to whom the Val's Day is traced.
Berekum the Golden City of Ghana not an exception joined the celebration to the fullest. Friends and loved ones trooped to various gift shops and supermarkets to buy gifts of all kinds, like chocolate, biscuits, flowers, hampers, bottles of Champaign, teddy bears, apparels for their loved ones. From an informal survey, people preferred buying chocolate to other gifts.
A lot of advertisement ran through the airwaves to publicise various programs that will transpire on the d-day. The day was generally quite till the early hours of the evening when some drinking spots like J'e Taime, Ann France, Akontam, Scotch de Low, Candilla Inn, Plus 2 and others mounted public address systems to kick the show starting. Around 7:30 pm the streets were filled with people who were blissfully dressed, in glitzy white and red combination dresses, gallivanting from one joint enjoying. Several love birds were spotted.
At the Royale Unity Lodge was the "night out with your partner" organized by Agoro Fm. At the Marina Bar and Restaurant was the "Val's day jam" organized by Chris Fm and from the Evergreen Runners Hotel was the "Red and White Party" organized by Shalom Radio in collaboration with Runners Hotel. All these places were filled to capacity and euphoria was a thing not to talk about. A careful observation at the trash gathered the following morning at these three hot joints, didn't have used condoms. This signified that there may be a level of behavioural transformation in how people publicly and indiscriminately used to make love all for the sake of Val's Day.
A summary survey gathered from various drug sellers also proved that the rate at which people bought condoms on this Val's Day was lesser as compared to previous years.
Let's all hope that the subsequent Val's Day celebrations will bring forth reconciliation and reunion among families, friends and loved ones but not a day for fornication.