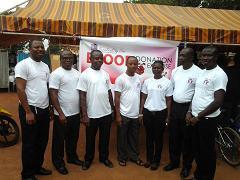 Berekumcity.com in collaboration with Shalom Radio/TV with sponsorship from Berekum Area Teachers' Cooperative Credit Union (BATCCU-Located on the Berekum-Drobo Highway after the Municipal Police HQT.) over the weekend (Saturday, 25th 0f August, 2012) organised a blood donation exercise at the Omanhene's park in aid of the Berekum Holy family hospital Blood bank.
The main objective of the exercise was to provide blood to stock the blood bank to prevent deaths especially in case of accidents.
Blood is a very scarce resource and it's not for sale, thus the only way to get it is when people willingly donate.
The more people volunteer to donate, the more lives are saved, because when anybody is short of blood they need to get blood transfused into them, hence the theme of the project, Donate Blood and Save a Life.
The exercise also saw support from;
Agoro FM
Hon George Atta-Boateng, Parliamentary Candidate for the NDC in Berekum
Fraga Filling station on the Sunyani Road,
Azito Fun Club,
Enapak Pharmacy,
Graceland Ent.,
AD Bediako Hardware,
Unity Family Ventures Supermarket,
Nyame Tease Ent.,
Jenark Mineral water,
Global Hardware and Rentals,
Ghana Scout-Berekum and
Jinijini Senior High School Cadet.