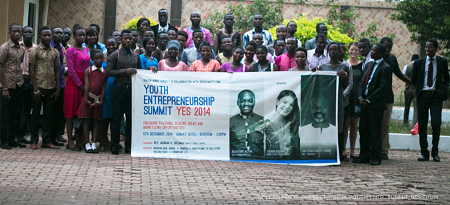 The Youth Entrepreneurial Summit-YES 2014, a youth program organised by Golden Minds Consult with support from Berekumcity.com aimed at empowering the youth came off on Saturday, 5th of December 2014 in Berekum at the Ginaat Hotel.
Mr Alloysius Atta, C.E.O of Farmerline Ghana, An Information Technology Base Sector for Farmers, urged the Youth to develop and utilize their God given Talent (s) to raise the needed Capital to improve their Living Standards.
He intimated to the Youth that they could develop their Talent (s) to establish Small Scale Local Businesses to create employment for themselves and others to reduce the country's unemployment rate.
He, subsequently, charged the Youth to go beyond their immediate environment since that should not be a hindrance to their personal development and creativity.
"We all Didn't like the course that was given at the University" throwing light on the fact that one's program of study at the University should not determine his stand in life or should not Bring the creative power within the individual. The Summit was on the theme "Engaging Passions, Scaling Ideas, & Monetizing Opportunities"
He noted that, the Government Sector alone cannot employ all the Youth, hence harnessing Our Creative Power to bring to bear businesses and Local Enterprises to the benefit of their immediate Environment and Ghana at large is critical.
Miss Jessica Kaisaris, a Business Development Associate, advised the Youth, that Passion is Primary to the accomplishment of one's dream.
Therefore the Youth should not just dream, but should be ready to take calculated risks all means possible to see their dream flourish.
Miss Jessica stated that dreams should not know boundaries, since her own environment could have been a blockage to reaching her dream but passion to succeed reigned in the end.
She again commended the attitude and the mind-set of the Youth, in that everyone wants to do something, thus the Youth of today is more Entrepreneurial minded.
Mr Schandorf Adu Bright, C.E.O Of Golden Minds, advised participants to initiate ideas to establish their own business to become self-employed and project Berekum Municipal to the outside World.
The program was supported by The Berekum Municipal Assembly, Nso Nyame Ye cold store, Farmerline, Romedia, Ginaat Hotel and Shalom Radio.