(RELECTIONS ON A LIFE OF SERVICE)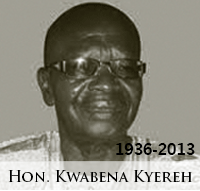 1936-2013
Mr. Kwabena Kyere was born at Senase, a village one kilometre away from Berekum on Tuesday, 3rd March 1936 to Opanin Kwaku Nsiah and Madam Akosua Afrah and was named after his paternal grandfather Nana Kwabena Kyere , head of the Atanofie family at Senase.
EARLY LIFE AND EDUCATION
He started schooling in 1945 at Senase at age nine. In 1950, he was admitted into the Berekum Catholic Middle School, one of the best Middle Schools in the Brong Ahafo at that time.
He sat and passed the Middle School Leaving Certificate Exam in 1953 before which he had already gained admission into Oreilly Secondary School in Accra.
He spent two terms there and moved to Opoku Ware Secondary for the third term in 1954.At Opoku Ware he was secretary to the Historical Society, Debating Society, OLS Club and UNSA. He was also Sports Prefect. He obtained both his Cambridge School Leaving Certificate ('O' Level) and Higher School Certificate ('A' Level) in 1958 and 1960 respectively at Opoku Ware.
He taught at Catholic Boys' School from 1961 to 1962 before entering the University.
He entered University College of Cape Coast (now University of Cape Coast)from 1962 t0 1966.There ,he was the first ever SRC Secretary of the school from 1965 to 1966 and Secretary Convener of the Convention People's Party (CPP) branch at Cape Coast.
FAMILY
Married to Veronica affectionately called Adwoa with four kids namely;
Kwabena Kyere Jnr
Margaret Kyere
Robert Kyere
Lydia Kyere
Kwasi Kyere
PROFESSIONAL CAREER
He taught at Dormaa Secondary School from 1966 to 1973, Sunyani Secondary School from 1973 to 1980 where he occupied various positions such as Housemaster, Sports Master, Senior Housemaster, Assistant Headmaster and Acting Headmaster.
In 1980, he was appointed Headmaster for Berekum Secondary School and served for two years before being transferred to Techiman Secondary School from 1982 to 1986.
He later worked at the Diocesan Development Office as the coordinator from 1987 to 1990.
On 22nd June, 1990, he was appointed as the PNDC District Secretary for Berekum
POLITICAL CAREER
Elected Representative to Constituent Assembly
Representative of Berekum District Assembly at the Regional Consultative Assembly in 1980
Brong Ahafo Representative at the National Development Commission
Appointed PNDC District Secretary for Berekum on 22nd June, 1990
Elected to Consultative Assembly in 1991 by Berekum District Assembly
Elected Deputy General Secretary of NDC in 1994 and 1996
Appointed Deputy Minister for Education in 1993 and 1997
OTHER INVOVLEMENTS
He was also among other things;
Chairman of GNAT for Dormaa District in 1970
Brong Ahafo Regional Chairman of GNAT in 1977
President of GNAT from 1982 to 1986 when he resigned
A member of the National Executive Committee of GNAT from 1977 to 1986
A member of the Executive Committee of the International Free Teachers Union in Africa in 1984
A member of the Education Commission in 1984
OTHER NOTABLE CONTRIBUTIONS
He was;
A founding member of the BRONG AHAFO STUDENTS UNION (BASU), its first Treasurer and eventually its president.

President of Brong Ahafo Youth Association (BAYA)

President of Berekum Youth Association (BYA)

He facilitated in putting together the history and political history of Berekum found on Berekumcity.com
CONTRIBUTION TO THE PROGRESS OF BEREKUM
He helped to establish;
Berekum Secondary School in 1970
As President of Berekum Youth Association, their first assignment was to establish a Secondary School in Berekum. After initial attempts to impress it on the Anglican authorities to improve upon the already existing Anglican Secondary School failed, they initiated a programme to establish a Secondary School.
The Traditional Council then generously gave them 80,000 pounds to start the school. They renovated the community centre, bought some furniture and started. An inspection team of the Ministry of Education came to Berekum and gave approval for the school in 1970
Berekum District Council (now Berekum District Assembly) in 1974

Jinjini Secondary School in 1990
As PNDC District secretary for Berekum, his first assignment was to put structures in place for the establishment of Jinjini Secondary School to serve Jinjini, Ayimon, Fetentaa, Adom, Tewbabi and the surrounding villages. The site had already been cleared and they were given a deadline to put up two blocks of classrooms. With the help of Nana Berekumhene (Nana Yiadom Boakye II) who personally donated 300,000 cedis, they were able to meet their target.
Presbyterian Secondary School in 1995
The Presby church at Berekum had initiated a Secondary School and had solicited the assistance of the District Assembly. The Assembly converted the existing structure at Amankona Diawuo J.S.S into Presbyterian Secondary School and earmarked a big plot for the extension of the school.
He mobilized the community to put up structures for the school. When he was appointed Deputy Minister for Education, he asked the GES to inspect the school for possible absorption by Government and the school was absorbed into the public system in 1995.
Schools, Clinics, Markets, Feeder Roads and Berekum – Kato Street Lights were all some of the projects he completed in Berekum under the auspices of the District Assembly.
He passed on in October 2013 at age 77. May his soul rest in peace