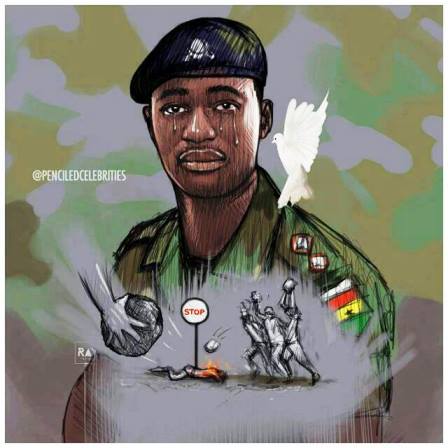 It felt like I was in a trance when I saw the video showing people lynching a supposed armed robber. At that moment, it was my innate human instinct of compassion and empathy that had kicked in. My mind kept rolling trying to find a reason why humans could act with such impunity. I could feel the tears streaming down my cheeks with it stinging salty taste. What has our country come to? When will we stop tantalizing ourselves as the so called peace-loving people? At what point can mob lynching justify a crime someone has committed?
I would later learn that the supposed armed robber who met his untimely death is an army captain who had been designated to the area, leading a contingent of army personnel to protect the people of Denkyira Obuosi from galamsey. This new revelation shock me to the core. My personal connection to the story was deepened because I have a brother who is a Sergeant in the army. The deceased soldier went to the same secondary school as my elder brother, Saint John's Secondary and Seminary. I went to a similar Garrison school with him in Takoradi and believe at some point we may have crossed path. I wondered if this had happened to my brother in the army what I would have done. My brother has two boys just like this soldier. My thoughts now focused on how his wife, and family are going to take this news. Absolutely no one deserves to die in such a painful and horrendous way.

Listening to the father and many other people who knew this young fallen gallant, made it clear that he was a principled and caring man. He did nothing without consulting his wife and dad. He was a people's person and even though a military person would be the last to pull the trigger. It is quite evident he believed in the goodness of humanity and assumed his murderers would spare his life. In an interview with the father you could see he was trying to stay strong, for the other members of the family but on frail grounds. I knew it would only take saying few words about his son before he shed tears and so it was. The interviewer's last question was, do you think you can ever recover from this? This was a profound question and I was mildly irritated at the interviewer for the directness of it but after a big sigh he answered, I should with his eyes downcast and dazed. I keep seeing him standing in front of me and suffering, the father said swallowing tears.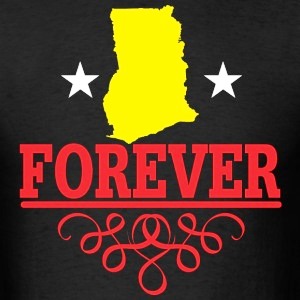 Our dear nation is being torn apart not because we do not have committed citizens but because we have allowed some selfish people to ruin her with their words and acts of wickedness and corruption.
Our dear nation is being torn apart not because we do not have people with good will but because the good will of such people are being perverted by the cruelty of other people who hold high positions through their acts of utter corruption.
Our dear nation is being destroyed not because people are not being taught and know what is right or wrong but because people out of the cruelty meted out to them, also decides to recompense with cruelty.
Our dear nation is in utter desolation not because people are not being advised to desert cruelty, corruption and wickedness to cling on to good will, love and respect but because the same people who open their mouths to give such advice are the same people who demonstrate the most what they advice against.
Our dear nation is being poisoned with wrong people to destruction not because there are no right people to clear off the mess made already but because we have allowed the spirit nepotism and selfishness to rule when we she is entrusted to our care by virtue of high position.
The Electrical and Electronic Engineering department of the Sunyani Technical University (STU) has held it Maiden Exhibition of some projects the department has undertaken in solving pertinent problems in the country.
The event was held on Thursday, 18th of May 2017 at the Nsia Gyabaa Auditorium at the University. Speaking at the function, the Pro-Vice Chancellor, Dr. Solomon Korantwi-Barimah said, the initiative of the department is a great and timely one, because the university has chosen the department as it Flagship department (programs) with the aim of making STU as the preferred institution for the best technical, practical hands-on education when it comes to Electrical and Electronic Engineering in Ghana. He therefore encouraged students and the public to choose the university in their quest to get quality and employable education.
Some of the projects exhibited include;
A density based traffic light control system (which automatically gives high priority to lanes with high density(volume) of vehicular traffic)
An Intelligent waking stick (A walking stick that can guide the blind, the deaf and the dumb)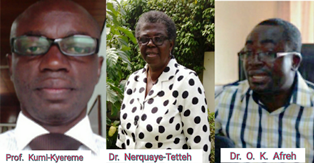 A lecturer at the University of Cape Coast has called on the Ministry of Education and the Ghana Education Service to organize in-service training for teachers of Reproductive Health related subjects to equip them to be able to treat the topics that affect sexuality of children.
He therefore called on the authorities of the education service to employ the services of health professionals if teachers can't treat topics on Sexual and Reproductive Health due to some acclaimed "sacred words" in it.
Speaking to press at the launch of a report dubbed, "From Paper to Practice: Sexuality Education Policies and Implementation in Ghana", in Sunyani, Professor Akwasi Kumi-Kyereme also kicked against the idea of parents preventing their wards from having access to sexual education
Professor Akwasi Kumi-Kyereme, the Vice Dean at the faculty of Social Sciences at the University of Cape Coast, who joined his other 8 colleagues at the university to conduct the research, noted that parents should open up to teach their children about sex and its related issues to avert teenage pregnancies and STIs.
"The silence of parents on sexuality has pushed children to crave for knowledge on it from their naïve peers leading them into homosexuality, sexual promiscuity. These immoral acts are also coupled with unprotected sex resulting in unsafe abortions", he stated.